Laicidad, religión y política pública en México: El reacomodo de la relación con el presidente Andrés Manuel López Obrador | Secularism, religion and public policy in Mexico: The rearrangement of the relationship with President Andrés Manuel López Obrador
Resumo
El artículo discute, desde la óptica de la sociología de las religiones, la historia y la ciencia política, las nuevas relaciones entre el Estado mexicano y los grupos religiosos e Iglesias, mismas que tradicionalmente se han caracterizado por conflictos, encuentros, desencuentros y acuerdos tácitos o de facto. A raíz de victoria electoral del presidente López Obrador en 2018, por medio de una alianza aparentemente poco comprensible entre partidos y sectores de izquierda y de derecha, ha llamado la atención su acercamiento a las Iglesias evangélicas y a formaciones políticas emanadas de éstas, lo que ha sido ampliamente criticado y discutido en la opinión pública. Al respecto, partiendo de un encuadre histórico-político y de las reflexiones de dos entre los mayores expertos del tema en México, Bernardo Barranco y Roberto Blancarte, el objetivo del artículo es plantear posibles explicaciones e hipótesis provisionales acerca de la reconfiguración de las relaciones entre Iglesias y Estado en el país. Éstas van más allá de la figura política del mandatario y encuentran sentido a raíz de los antecedentes históricos de larga data y recientes, así como de los propósitos y acciones del gobierno dirigidas hacia un cambio de régimen no exento de pragmatismo político y tensiones.
The article discusses, from the perspective of the sociology of religions, history and political science, the new relations between the Mexican State and religious groups and Churches, which have traditionally been characterized by conflicts, encounters, disagreements and tacit or de facto agreements. As a result of the electoral victory of President López Obrador in 2018, by means of an apparently not very understandable alliance between parties and sectors of the left and right, his approach to the Evangelical Churches and political formations emanating from them has attracted attention, which has been widely criticized and discussed in public opinion. In this regard, based on a historical-political framework and the reflections of two of the leading experts on the subject in Mexico, Bernardo Barranco and Roberto Blancarte, the objective of this article is to propose possible explanations and provisional hypotheses about the reconfiguration of the relationship between Churches and State in the country. These go beyond the political figure of the president and make sense of the long-standing and recent historical antecedents, as well as the government's intentions and actions aimed at a regime change not exempt from political pragmatism and tensions.
Downloads
Não há dados estatísticos.
Referências
ANIMAL POLÍTICO (Redacción). 21/11/2020. Disponible https://www.animalpolitico.com/2020/11/familia-institucion-seguridad-social-amlo-g20/ Consultado:12/12/20
BARRANCO, Bernardo y BLANCARTE, Roberto (2019). AMLO y la Religión. El Estado laico bajo amenaza. México: Grijalbo.
BOURDIEU, Pierre. (1972). Esquisse d'une theorie de la pratique. París: Droz.
BOURDIEU, Pierre. (2002). Razones prácticas. Sobre la teoría de la acción. Barcelona: Anagrama.
CARDONA, Hernán. La biblia en el documento de Medellín. En: AA.VV. 50 años Medellín. Segunda Conferencia General del Episcopado Latinoamericano, Bogotá: Pontificia Universidad Javeriana, 2018, p.19-27.
DELGADO, Álvaro. (2003). El Yunque. La ultraderecha en el poder, México: Plaza y Janés.
DOF (2019a). Reglamento Interior de la Secretaría de Gobernación. México: Gobierno de la República.
DOF (2019b). Plan Nacional de Desarrollo 2019-2024. México: Presidencia de la República.
EFE (Agencia), (2018). 12/02/18. Disponible https://es.euronews.com/2018/12/02/los-tres-mandamientos-de-amlo-no-mentir-no-robar-no-traicionar. Consultado el 12/12/20
FLORES, Hugo. 12 de noviembre 2020. Disponible en https://www.quadratin.com.mx/politica/la-alianza-es-con-amlo-no-con-morena-pes/. Consultado: 20 de noviembre de 2020.
FUENTES, Y. (2018). 04/10/20, disponible https://www.bbc.com/mundo/noticias-america-latina-45712329. Consultado el 12/12/20
GALVÁN, Enrique et al (2020). Guía ética para la Transformación de México. México: Gobierno de la República.
GRECO, T. (2020). 29/07/20. Disponible https://m-x.com.mx/analisis/hacia-donde-va-el-discurso-de-odio-de-frenaaa. Consultado el 12/12/2020
GUEVARA, Gilberto (1985). La educación socialista en México. México: El Caballito.
LÓPEZ OBRADOR, A. 11/04/2012. Ddisponible https://lopezobrador.org.mx/2012/04/11/abrazos-y-no-balazos-lopez-obrador/. Consultado el 12/12/20
LÓPEZ OBRADOR, A. (11/05/20). Disponible https://lopezobrador.org.mx/2020/05/11/version-estenografica-de-la-conferencia-de-prensa-matutina-del-presidente-andres-manuel-lopez-obrador-318/. Consultado el 12/12/20
MARDONES, José María (1993). Fe y Política. El compromiso político de los cristianos en tiempos de desencanto. Bilbao: Sal Terrae.
MEYER, Jean. Disidencia jesuita. 1 diciembre, 1981. Disponible en: http://www.nexos.com.mx/?p=3966. Consultado: 20 de noviembre de 2020.
MARTÍN CRIADO, E. (2009). Habitus. En: Reyes R. (Dir). Diccionario Crítico de Ciencias Sociales, volumen 2, Madrid: Plaza y Valdés, 1427-.1439.
MORÁN, BREÑA. 26/11/20. Disponible https://elpais.com/mexico/2020-11-27/el-nuevo-catecismo-de-lopez-obrador-para-sacar-a-mexico-de-la-degradacion-y-la-decadencia.html . Consultado 8/12/20.
PETINNÁ V. (2019). 23/02/19. Disponible https://elpais.com/internacional/2019/02/23/mexico/1550894770_254619.html
Consultado 8/12/20
PRESIDENCIA DE LA REPÚBLICA.01/09/19 . Disponible
https://framework-gb.cdn.gob.mx/informe/Informe_Gobierno_de_Mexico.pdf
Consultado: 8/12/20
PRESIDENCIA DE LA REPÚBLICA. 01/09/20. https://presidente.gob.mx/wp-content/uploads/2020/09/PRESIDENTE%20AMLO%202INFORME%20DE%20GOBIERNO%202019-2020.pdf
Consultado 8/12/20
REYES, A. 01/01/2019. Disponible https://lopezobrador.org.mx/wp-content/uploads/2019/01/CartillaMoral.pdf . Consultado: 12/12/20
RICARDO, J. (2019). 21/10/19. Disponible https://www.heraldo.mx/es-amor-al-projimo-mi-doctrina-amlo/ . Consultado: 12/12/20
ZAVALA M. y MORALES M. 30/06/19. disponible https://www.eluniversalqueretaro.mx/nacion/andres-manuel-lopez-obrador-el-religioso
Consultado: 12/12/20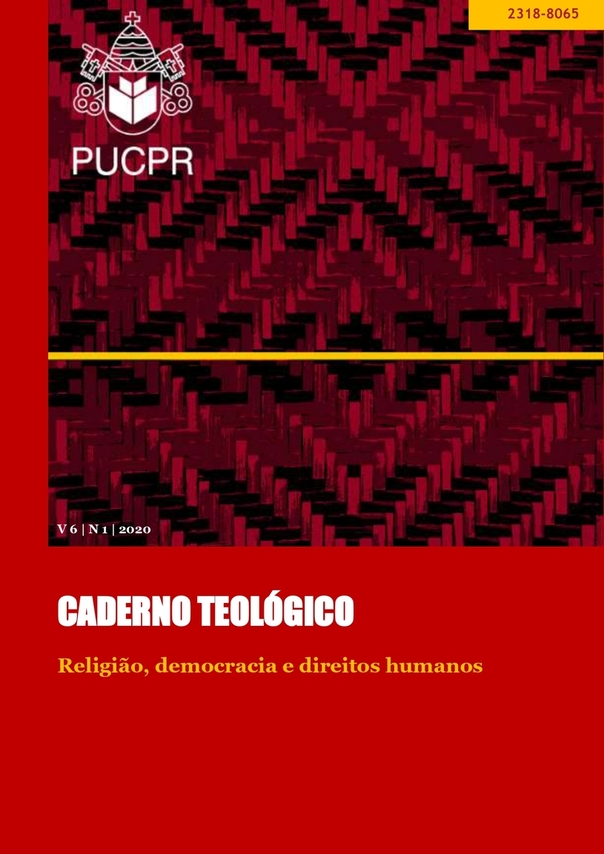 Downloads
Como Citar
Mendizábal, D. M., & Lorusso, F. (2021). Laicidad, religión y política pública en México: El reacomodo de la relación con el presidente Andrés Manuel López Obrador | Secularism, religion and public policy in Mexico: The rearrangement of the relationship with President Andrés Manuel López Obrador. Caderno Teológico Da PUCPR, 6(1), 37–54. https://doi.org/10.7213/2318-8065.06.01.p37-54
Seção
RELIGIÃO, DEMOCRACIA E DIREITOS HUMANOS